What Opportunities are Available for International Students in the Canadian Job Market? -Written by Alexander College in Career on August 13, 2019
Are you an international student in Canada looking for a job?
In this article, we're sharing some insight into the Canadian job market and the opportunities available to international students.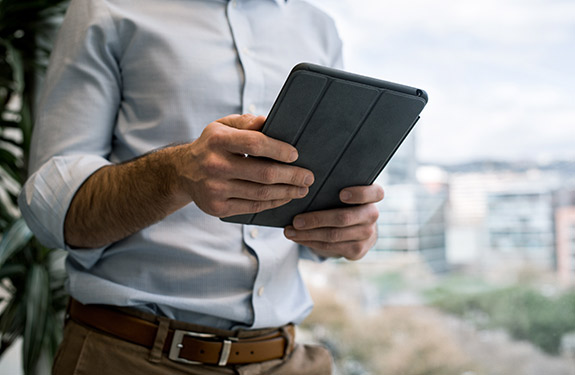 Can I Work in Canada as an International Student?
According to the Canadian Government website, as an international student, you can work in Canada if your study permit explicitly states that you are allowed to work either on or off campus.
In order to work off campus, you will need to meet the requirements listed on the Canadian government website. If you are authorized to work off campus, make sure to pay attention to the number of hours you can work per week as an international student.
After you complete your degree program at Alexander College, and if you fulfill all the requirements established by the Citizenship and Immigration Canada (CIC), you will also be able to apply for the Post-Graduation Work Permit (PGWP).
This permit enables you to work in Canada for up to three years after your graduation.
Hence, you'll have the chance to gain hands-on experience in the Canadian job market.
That being said, be aware that not all designated learning institutions in Canada makes you eligible for the PGWP.
In additon, you can refer to the government website for a list of the institutions and programs that help students qualify for this permit.
An Overview of the Canadian Job Market
According to the Labour Force Survey released by Statistics Canada in June 2019, employment rose by 453,000 positions.
In addition, it shows that there are more job opportunities for both full-time employees (+299,000) and part-time employees (+154,000).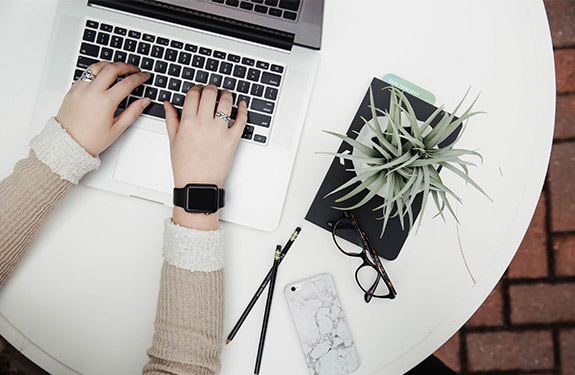 The Job Market in Vancouver
The province of British Columbia recently released the 2018 edition of the "British Columbia's Labour Market Outlook" report.
According to the publication, there will be 903,000 job openings from 2018 to 2028 in the province. 77% of the job openings in the region during this period will require some form of post-secondary education.
From this chart, you'll see that 41% of this job opportunities will require a diploma, certificate or apprenticeship. On the flip side, 36% of the occupations will need professionals that have a bachelor's, graduate or first professional degree.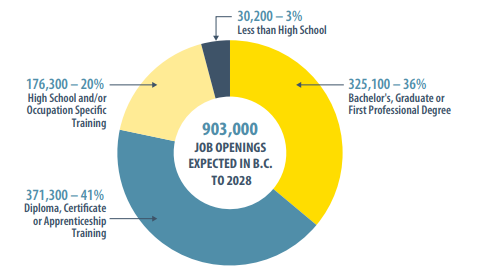 Source: B. C.'s Labour Market Outlook: 2018 Edition
Hence, if you are planning to study at Alexander College, you're on the right track! We offer a variety of programs, including Associate Degree programs and University Transfer programs.
To give you a better idea of the job market in Vancouver, five industries will be responsible for most of the job openings in the next 10 years:
Health Care and Social Assistance

Professional, Scientific and Technical Services

Retail Trade

Accommodation and Food Service

Finance, Insurance and Real Estate
If we take into consideration the occupational groups in Canada, 51% of the new job opportunities in the next ten years in British Columbia will come from Sales and Service, Business, Finance, Administration and Management categories.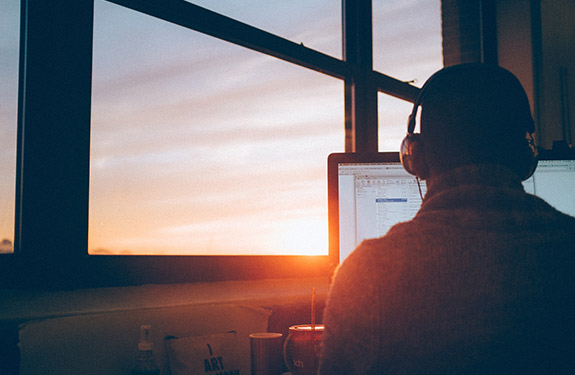 Career Opportunities after your Graduation
Now that you have a lot of general information about the Canadian job market, you need to know the job opportunities you can get after your graduation.
We offer a variety of programs at Alexander College such as the Associates Degree programs and the option to be a university transfer student towards completing a bachelor's degree. Our programs provide you the opportunity to look into various job markets in the country.
Here are a few entry-level job options to consider :
Administrative Assistant

Assistant Retail Manager

Bank Teller

Customer Service Representative

Customer Support Representative

Marketing Assistant

Sales Associate

Accounting Assistant

Assistant Manager

Bookkeeping Assistant

Customer Service Representative

Human Resources Assistant

Marketing Assistant

Office Assistant

Assistant Business Analyst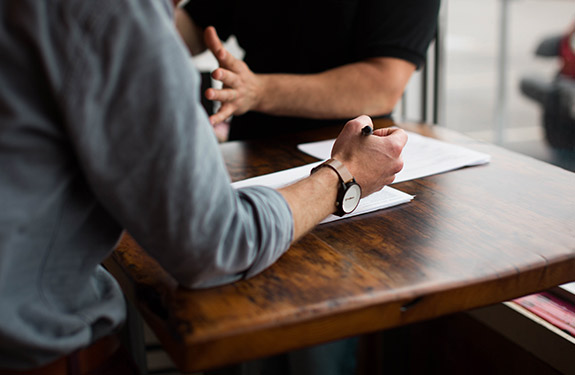 How to Get your First Job in Canada?
Prior to applying to a job, you'll need to update your resume and prepare a cover letter. If you don't know how to do that, you can check out some tips we share in our AC Blog.
You also have the option to go to our Writing and Learning Centre and ask our tutors for help on writing your documents.
In Canada, you can find many job opportunities online:
Working on campus: Job opportunities for Alexander College students
As an Alexander College student, you will also have opportunities to work on campus.
Students are hired to provide general support at our college campuses. They are employed on a temporary, contractual basis.
Here are some examples of student worker duties:
Sorting and filing

Assisting staff with various duties and research projects

Reception coverage

Assisting with general duties in the AC Library
Canadian job market trends :
High Demand Jobs in Canada in 2019
If you plan to look for a job this year, Randstad, one of the largest Canadian HR firms.
They've combined their data to come up with a list of the 15 most in-demand jobs in Canada this year.
According to the research, the Canadian job market needs talented people in many different fields. You can find the full list by clicking HERE.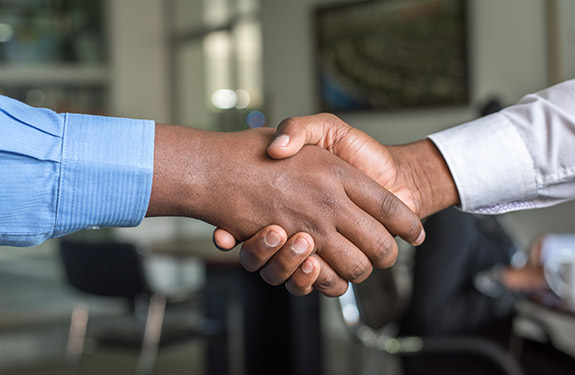 Now that you have all the information you need, let's start looking for a job in Canada!
If you are already a student at Alexander College, you can book an appointment to get help on writing your resume and cover letter at our Writing and Learning Centre.
If you are interested in applying to Alexander College, our Enrolment Advisors can help you to decide the best program for you. Contact us here!
Related Posts