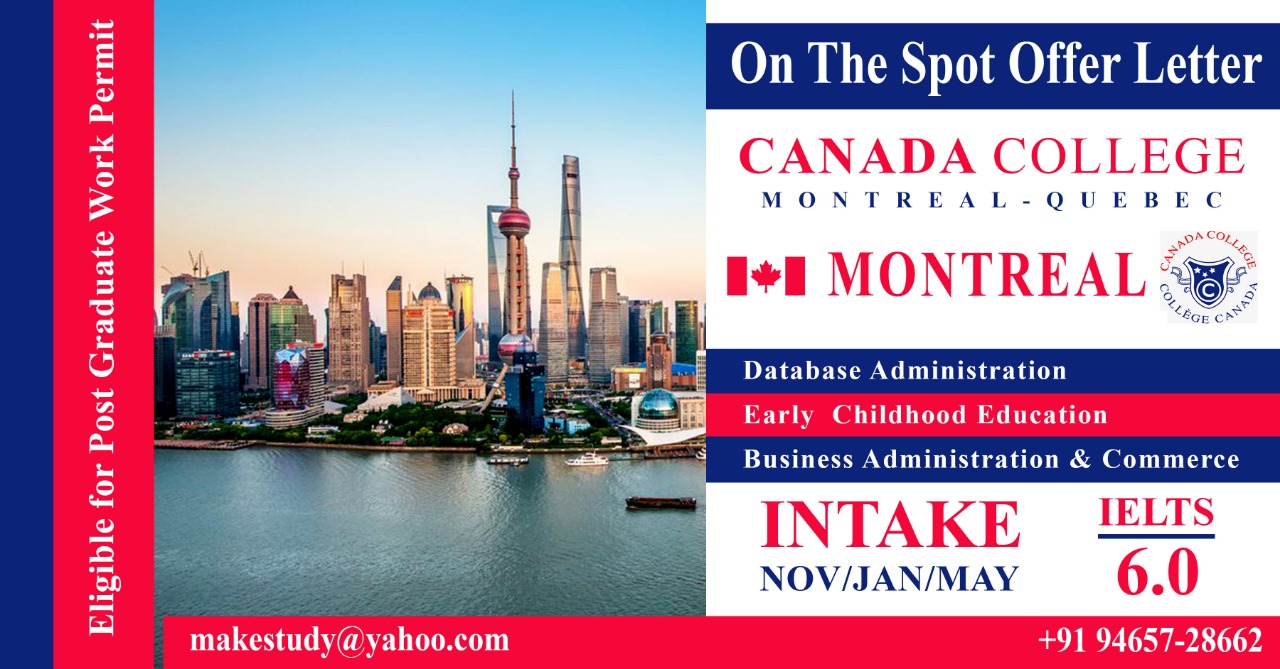 Recruit for Canada College, Montreal Intake: Nov 19, Jan'20
CANADA COLLEGE
Designated Learning Institution: DLI # O19338447695
Canada College has been helping students from across Canada and around the world for over years. Since its establishment, the school has focused on excellence in language and technical skills instruction.
The school has a well-earned reputation for meeting the needs of students both academically and professionally. Canada College is accredited by the Ministère de l'Éducation et de l'Enseignement Supérieur (permit #693 550).
AEC – Database Administration
Students enrolled in Canada College's Database Administration AEC program will develop a broad knowledge of the database development, design, implementation, maintenance and administration as well as Database Administrator's tasks such as design system performance, querying the database using SQL scripts, database security and backup & recovery. They will master the technical aspects of database administration, using several tools and platforms.
Duration: 975 hours (3 sessions – 12 months with 8 weeks internship).
International students are eligible for post graduate working visa.
AEC – Business Administration & Commerce
The Business Administration and Commerce program, with a duration of 1200 hours, is given in four 15-week sessions, including a 2-month internship in a company. It will interest those wishing to pursue a career in areas such as accounting, finance, marketing, sales and trade. The program focuses on the basic skills of communication and business ethics, and explores the essential computer applications used in the various fields of activity. Students will gain a thorough understanding of business concepts including marketing, entrepreneurship, economics and business law. Business Administration and Commerce also discusses the concepts in financial markets and the stock exchange.
International students are eligible for post graduate working visa.
AEC – Early Childhood Education
The early childhood education techniques program, lasting 1200 hours, is given in four 15 week sessions including two internships in CPE or family child care. This will be of interest to whoever would like to work with children ages 0-12 year. The program covers the fundamental skills needed to meet the specific needs of each child; to ensure a safe and healthy living environment; and to contribute to the development and improvement of the quality of services offered by the daycare. In addition, this program will enable students to develop emotional maturity, patience, self-confidence, sense of responsibility, ability to communicate and to develop activities to support the child's needs.
We invite applications from interested potential students,the confirmation letter will be issued on the spot followed by final letter of acceptance.
Related Posts