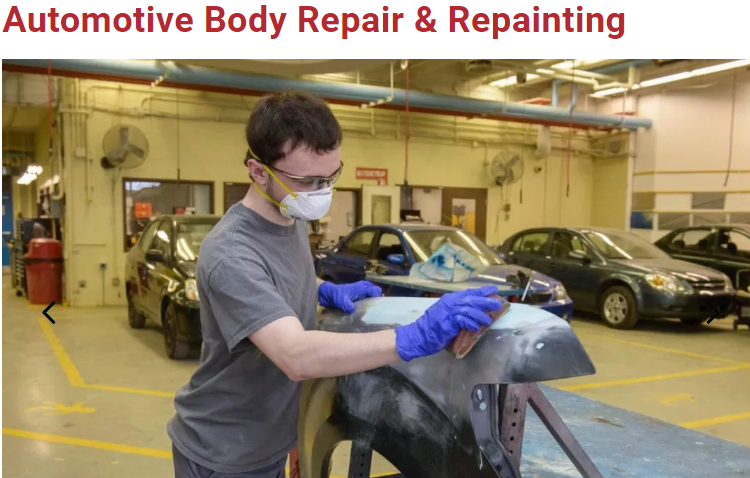 Exclusive Seats ( 50) Diploma of Vocational Studies (DVS): Automotive body Repair & Repainting
Diploma of Vocational Studies (DVS): Automotive body Repair & Repainting
The English program is offered in the evening.
Learning automotive body repair , it's more than replacing some body component on a car. It's learning how to make a damaged car looking like a new one.
Work-Study Program
Some of our day groups are offered in Work-Study Program (WSP). Through this process, our students will have nearly 650 hours of their training as internship. Those internship hours are paid by the employers. So it's a great way to learn a fast-growing business while getting more familiar with the professional field that you are aiming to work in. Study the autobody repair in WSP really is a worthwhile choice!
Repair Damaged Car
It could be done through straightening the body, changing the windshield or other diffrent component. You will have to do some welding, pulling, buffing and sanding. Always done through preparing, painting and washing. To prepare it, is to withdraw certain pieces to protect them, to cover the undamaged components. To make it as new is to paint, polish and reinstall all the aesthetic components of a car.
New Technology, New Materials
New technologies are guiding this training towards the work. With new materials such as aluminum and plastic or new tools like SD measuring systems.
Practise learning
If you are interest in manual work and you have the desire to carry out a project towards a finished product, this learning program and this profession is made for you.
Targeted professions
Bodyman
Automobile Damage Repair Estimator
Automotive Body Painter
Dent Remover and Repairer Automobile
Repair Shop Automotive Estimator,
Automotive Glass Installator and Repairer
Representant
Principal workplaces
Auto Repair Garages
Auto Glass Repair and Installation Workshops
Heavy Vehicle Repair Shop
Vehicle estimation centers
Car Dealers and Used Car Dealers
Suppliers of autobody material
Required Skills
Ability to analyze to establish an action plan and carry out the repairs
Good condition and physical condition
Good manual skills and dexterity
Precision and attention to detail
Autonomy, resourcefulness and sense of responsibility